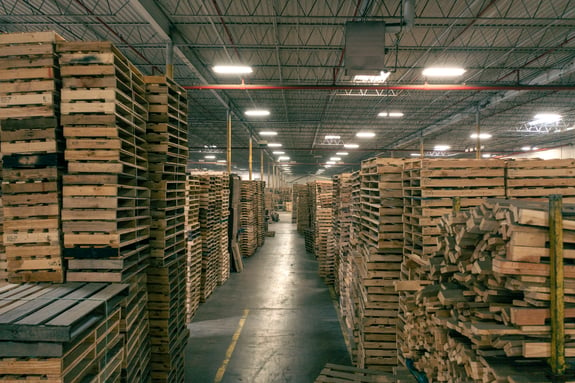 Environmental Product Declaration
Learn about the
Environmental Product Declaration (EPD) for Wood Pallets
Environmental Lifecycle Study for Wood Pallets
In 2020, the National Wooden Pallet & Container Association (NWPCA) and the Pallet Foundation published an Environmental Product Declaration (EPD) for U.S. wood pallets in conjunction with the Forest Products Lab and certified by UL.

The EPD documents the impact wood pallets have on the environment through a life cycle assessment (LCA) which measures the impacts of gathering, transporting, and manufacturing raw materials, use, repair, and end of life.

The LCA concluded that wood pallets can have a potential net carbon positive impact.
Helping our customers stay on top of their environmental targets.
We process over 100 million pallets each year, reducing the environmental impact of manufacturers and retailers across the country.
2.4
million
Tons of lumber diverted from landfills
3.0
million
Tons of CO2 emissions avoided
Committed to sustainable business practices
We track our sustainability scorecard metrics in real time, and we're always looking for ways to further reduce the environmental impact of our products, services, and operations.
Renewable
Our pallets and crates are built almost entirely of wood, a renewable resource. Read about the benefits of wood packaging on the Nature's Packaging website.
Reusable
PLA's business model enables the reuse of pallets, crates, and their components to reduce resource use and waste. Read about the benefits of reusable packaging on the Reusable Packaging Association website.
Recyclable
The use of recycled pallets reduces the number of trees harvested, volume of waste sent to landfills, and CO2 emitted into the environment.
Learn how PLA helps our customers stay on top of their sustainability goals
PLA's products, services, and operational efficiency help reduce our environmental impact and that of our customers.